Heavy-duty DSL Conductor Bar For Your Heavy Duty EOT Cranes Machinery
Safelink V
Capable of handling upto 2000 Amperes at 100% duty cycle.
Download Catalog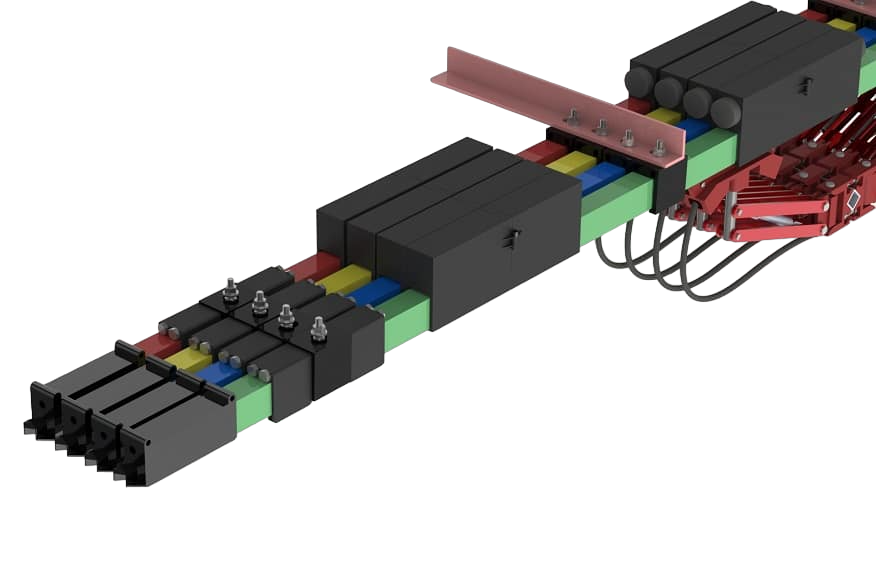 Materials & Ratings
Aluminium - 500A,800A,1000A,1250A,2000A
Copper - 500A,800A,1000A,1250A
Safelink V Heavy DSL Busbar Product Description
SafeLink V busbar makes it easy and cost-effective to deliver 3 phase power to your Electric Overhead EOT Cranes. Factories can transfer from 500 Amperes to 2000 Ampere Current ,depending on the energy required by the crane machinery.
Safelink V: Speciality of High Current DSL Eot Crane Busbar
SafeLink V busbars are unique because the profile of this busbar is very effective at dissipating heat. This profile is designed to have a large surface area to lose heat by convection method.It comes insulated from start to finish which prevents anyone from touching live sections of the busbar.And ,It is extremely easy to install with the help of standard tools.
System Arrangement Drawing of Safelink V busbars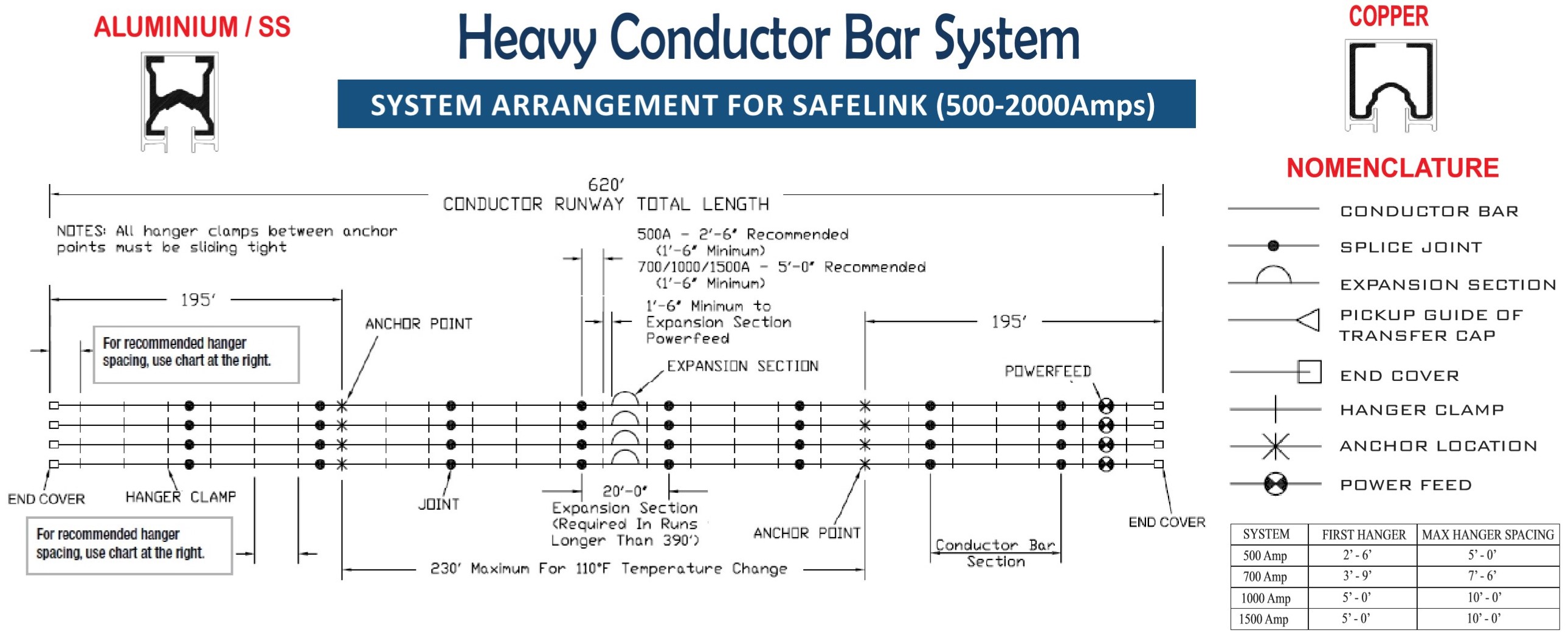 Benifits of the Safelink V Busbar
safelink V busbars can be installed for a long time without needing any maintenance.It is designed for any trolley /cranes moving in the long travel or the cross travel direction.Due to the Pin joints, installation costs are drastically reduced. Its insulated cover does not let water and dust to accumulate. It can also be easily extended upto the factory requirement. Usually factories installing uninsulated angle iron busbars or cable systems face issue of shock hazard.Angle Iron busbars suffer from dust and water issues.Angle iron busbars are not easy to install or maintain.Iron busbars also generate a lot of heat due to which the cost of electricity is very high.safelink V busbars are IP 21 Protected, can be maintained in a very safe and reliable manner. They don't generate as much heat as Angle Iron busbars due to the shape of the profile and hence, cost of electricity is low .
Current Collector for Busbars Specifications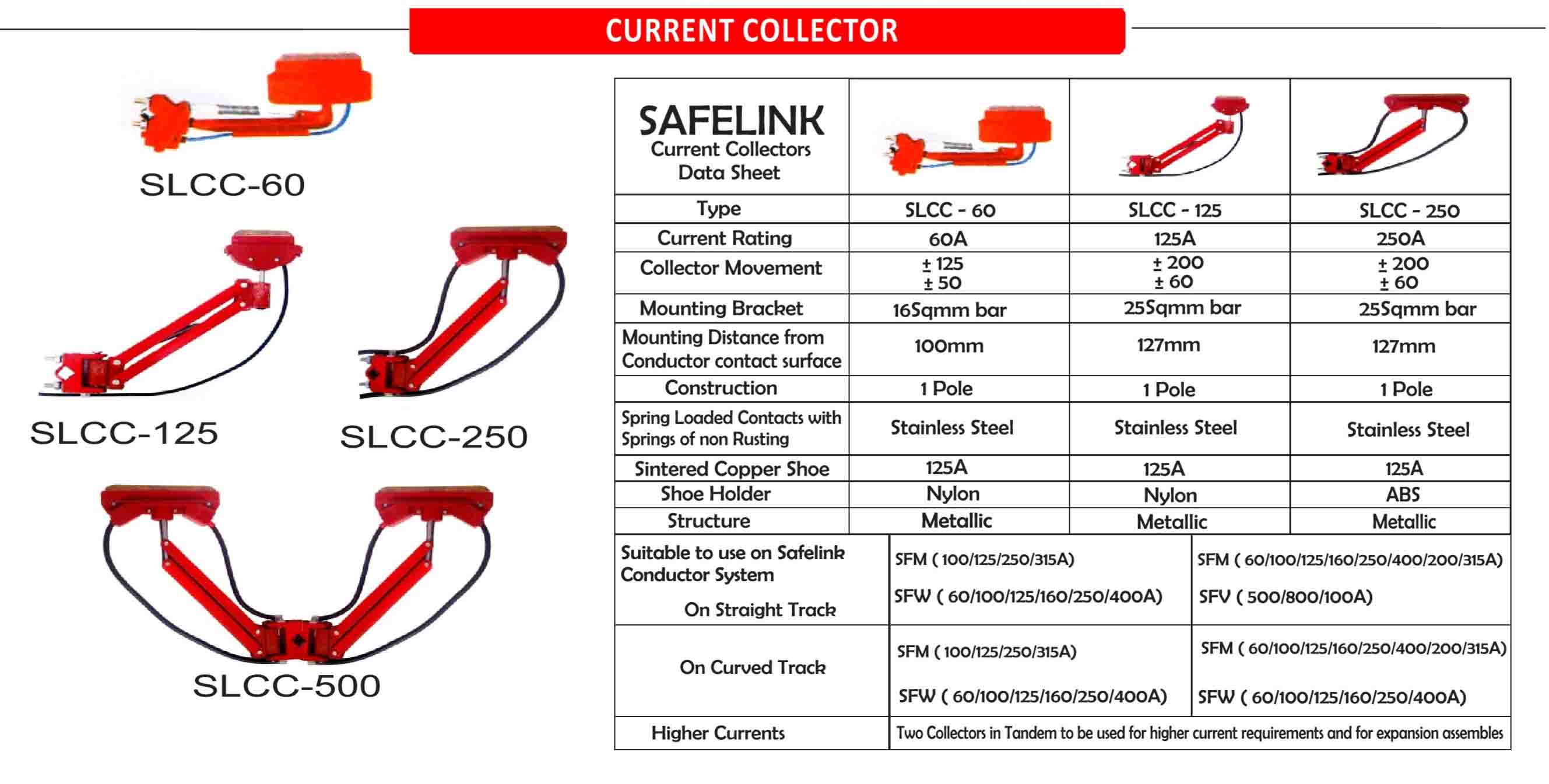 Features
Insulated Conductors
safelink V busbars are touch proof

No exposed live parts to human contact.

Protected from vertically falling water and dust.
Quick & Easy Installation
Easy Installation helps in reducing installation cost which reduces overall costs of the busbar.
Safelink busbars are installed with single bolt, 4 Pole Hanger.
Each safelink V busbar come in 4 Meters Bar Length.
The time has come to bring those ideas and plans to life.
This helps in installing short or long systems.

All joints are provided with Joint Covers.
No need of Expansion Joints up to 150 Meters long System.
This reduces overall cost of ownership and less number of joints .
Due to the use of a spring , enough force is provided to the shoes of the current collector
Helps in properly contact the underside of the busbar even if the current collector shoes wear out over time.
Safelink V busbars can be easily modified by adding or removing more busbar sections .
They can be easily installed on any structure or wall.

They can also be easily moved from one installation location to another.
Safelink V Shrouded Conductor Technical Data Specifications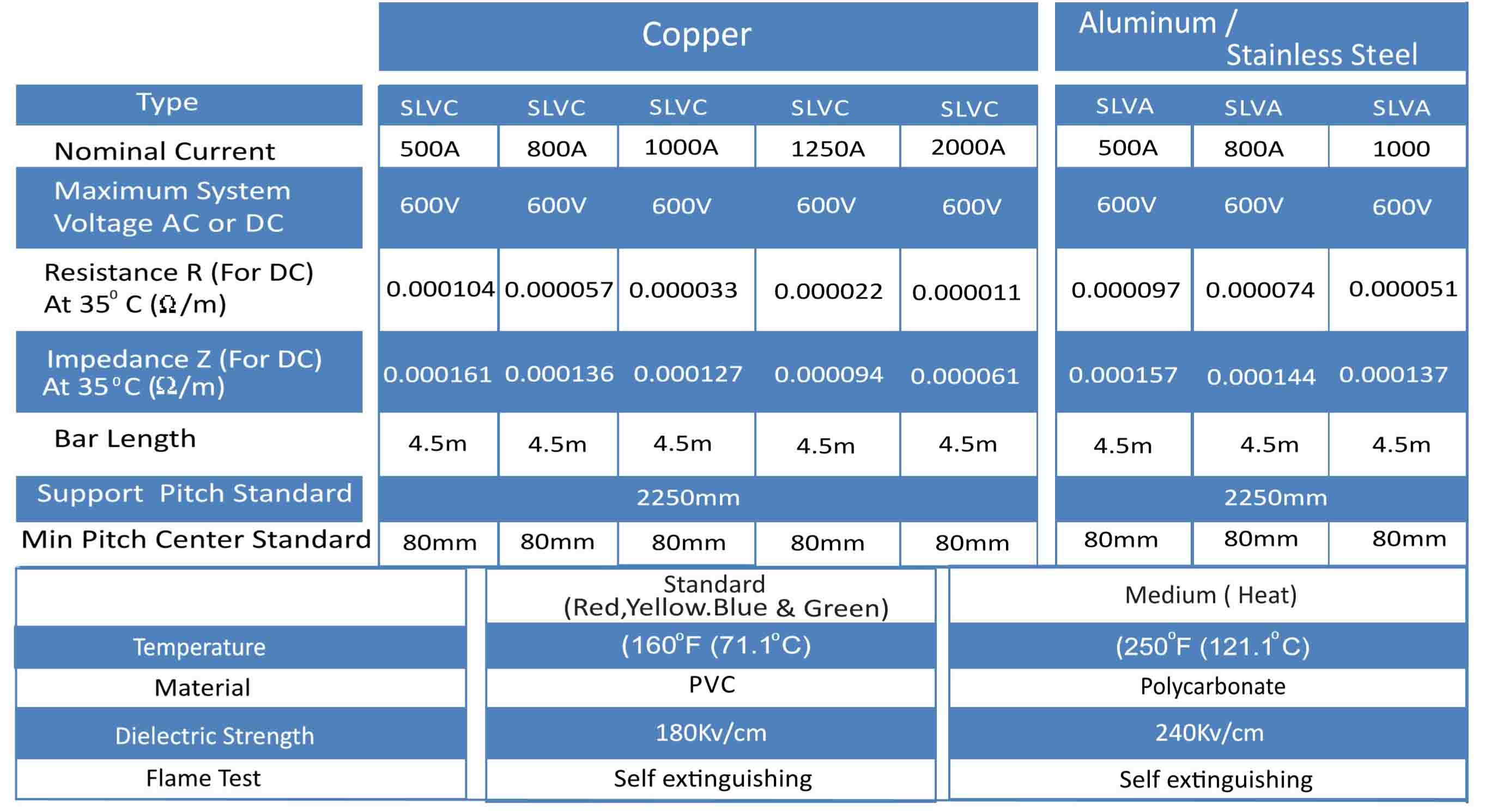 Expansion Section
Checkout out our other Busbar Products