Lever Limit Switch For EOT Crane
Standard Models:
LS/1/SH/1 ,1 way,Contacts-1no
LS/2/SH/2 ,1 way,Contacts-2nos

*CURRENT RATINGS 10Amps,40Amps
Lever Type Limit Switch for Industrial Cranes & Hoists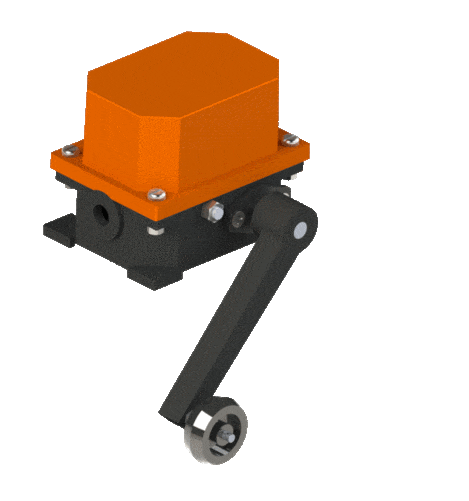 Crane Limit Switch: Working of Lever type limit switch
A lever type crane limit switch works on the principle of a lever attached to a rotating central shaft.When the moving machinery comes in contact with the lever, the central shaft of the lever rotates ,thereby rotating the coaxial cams which connect or disconnect the electrical contacts.
The rotation of the shaft can be spring returned to its stable normal position. The length of the lever type crane limit switch depends on the mounting position of the limit switch enclosure and the moving crane which needs to stop.
The Lever mechanism can be moved one way or both ways depending on the type of application. Lever type Limit Switch is prevent over travel of traverser motion within pre specified position on control or power circuit. Lever Type Limit switch is Suitable for use on Wagon shunting device,Elevators,Material handling system etc.
Anand Lever Limit Switch Technical Data Specifications
| | | |
| --- | --- | --- |
| | | |
| Body | | Cast Iron / Cast Aluminum main casing with cover |
| Protection Degree | | IP54/IP41:Dust ingress and protect against low pressure water jet from any direction. |
| Cable Entries | | 2, 3/4" Conduit |
| No. Of Contacts | | 2/3/4 |
| Contacts | | Double break silver cadmium |
| Rated Voltage Insulation | | 500 VAC. |
| Thermal Test Current | | 10Amps |
| Wire Connection | | Screw Terminal |
| Operations | | 720/hour |