Ultrasonic based Anti Collision Device
increase safety and prevent collision of overhead cranes
Ultrasonic Anti-Collision Device
Download Catalog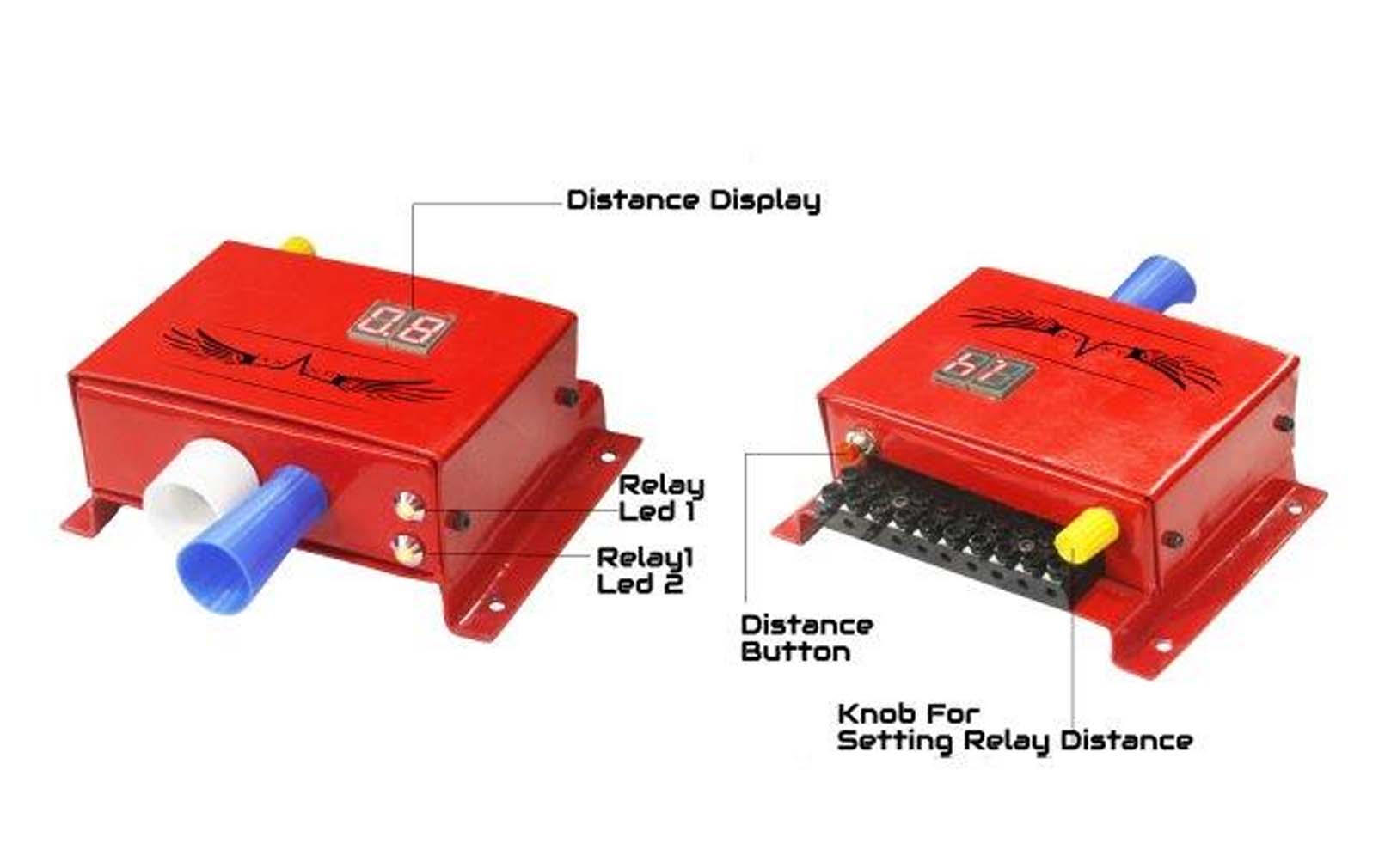 Advanced MicroProcessor based safety device
The ultrasonic Anti Collision Device system works on the principle of Ultrasound waves. The Sound emitter and sound detector are tuned at the same Sound frequency of 40Khz. When the transmitter sends a burst of ultrasonic sound, it is reflected back by the walls of the crane and the receiver detects it and activates an alarm signal and stops or reduces the speed of the crane.

The time taken after the burst is send and received and with speed of sound Distance is calculated.There is a Display which shows Distance in meters. If the obstacle is in range then by rotating the Knob, Relay range can be adjusted and another relay can be adjusted by directly pressing the switch.

Thus if two cranes are out of range they will operate in normal speed. The sensing Distance is adjustable from 0.01m to 5 meters. The Device is designed for crane applications and is suitable to work for 24x7 hrs. This product does not require Laser Pointing Device.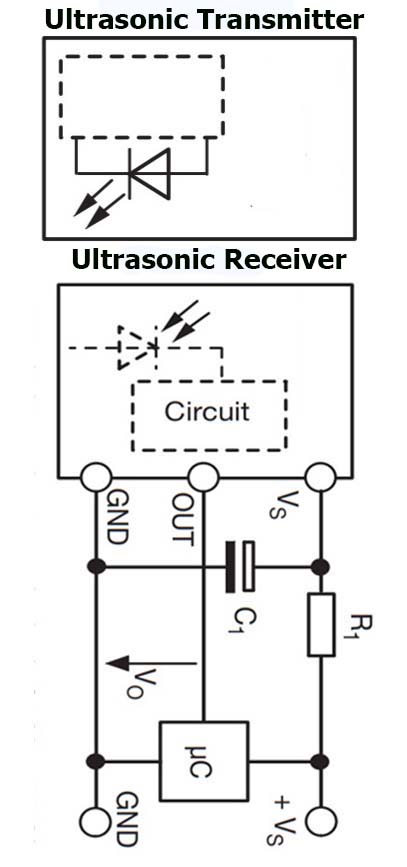 Easily Set the Detection Distance.
To Prevent Crane to Crane Collision 2 Sets of ultrasonic ACDs are required.1st ultrasonic ACD to be mounted on 1st Crane 2nd ultrasonic ACD to be Mounted on 2nd Crane Such a system will allow both the cranes to stop at the same time.

Next, position both the overhead cranes within 5 meters at the precise distance you want the power to be cut. Once, ACDs are properly mounted, rotate the distance knobs in the clockwise direction until the relay indicating light switches on. This means the distance is set . To Prevent Crane to Wall Collision 2 Sets of ACDs are Required.

Such as system will prevent collision of crane with the surrounding structure in the cross travel or long travel direction. 1st ACD to be mounted on the left side of the Crane and 2nd ACD to be Mounted on right side Crane.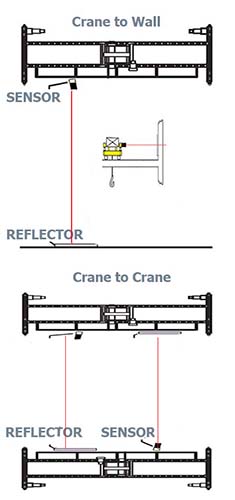 No Reflector Required
2 Set Points
Metal body
Ultrasound Based
The Relay Output Can be directly connected to operate a contactor in the control panel of a Crane .The Relay output can also be connected to a PLC or Variable Frequency Drive based automation system which can stop or reduce the speed of a moving crane machinery . Since Ultrasound waves does not require reflector, it can even detect human beings and stop the crane. Connection Diagram:

Connections:
Pin 1: Phase 220Vac
Pin 2: Phase 110Vac
Pin 3:Neutral
Pin 4:Earthing
Pin 5:NC - OUTPUT - Normally Closed Contact
Pin 6:C - INPUT - Common
Pin 7:NO - OUTPUT - Normally Open Contact
10 Millisecond Fast Reaction time
5 Meter Detection Distance
Complete Product Kit Includes:
1 Anti Collision Device with
:1 Ultrasonic Emitter
:1 Ultrasonic Receiver
:1 Knob for setting Detection distance
:1 Button for Setting Detection Distance
:External Connectors for connecting Power and Relay Outputs
:Mounting Bracket
:Distance 7 segment Display
Explore now
2 Set Points.
First Set Point to reduce Speed of Crane, 2nd Set point to stop Crane
Specifications
Supply Voltage
110VAC/220VAC/24VDC
Number of Set Points
2
Power Consumption
0.5 watts
Operating Temperature
0 degrees to 70 degrees
Maximum Stopping Distance
10 Meters
Minimum Stopping Distance
1 Meter
Reflector Required
No
Ultrasound Carrier Frequency
40 Khz
Relay Output Rating
110VAC 10 Amps
220VAC 10 Amps
30VDC 10 Amps

Enclosure
Sheet metal
Enclosure Dimension
180mmx145mmx55mm
Indicating Leds
Red Led