Analysis of Crane Accidents & Benifits of Installing Industrial IoT for Cranes
Construction, transport, logistics or maritime nearly every industry that deals with heavy goods requires industrial cranes. Even though a Crane accident can have fatal consequences safety precautions take a back seat in terms of priority with regards to profit.Let me tell you, All crane accidents can be avoided.
An Analysis of Crane Accidents and Areas of Risk :
An analysis of crane accidents – particularly those involving overhead cranes – reveals three areas of risk – electrical, material drop, and overload.

According to OSHA, 50% accidents are a direct result of power line contact – a sudden and inadvertent contact of a metal part with a power source – resulting in the electrocution of the operator and others in the vicinity.

Of the nearly 200 deaths occurring each year as a result of power line contact, most are operators guiding the load. The cause can usually be traced to improper safety planning and preventive measures including operator training.

Slipping, two-blocking, and machine failure can all cause serious damage not just to the load, but also to the operator and other personnel on site. In the year 2012, 20 deaths occurred as a direct result of material fall. Regular maintenance of the crane, operator training, and extreme care in operation are the only ways to mitigate this risk. 80% accidents of industrial cranes are a result of overload – operating the crane beyond its capacity.

In 2019, Seattle Crane Collapse case the crane collapsed, killed 4 people and injured 4 others. Among the 4 victims, 2 were the ironworkers due to the heavy crane falling on the roof and fell on the street. According to WSDL, this incident occurred due to the lack of maintenance and not following safety measures. The company was fined due to negligence and for the death of workers.

Increased structural stress results in irreversible damage to the crane as well as the load – resulting in extensive losses. For every 10,000 hours' use of the crane one accident may occur. These accidents are the result of inadvertently exceeding the crane capacity because of operators not being aware of load dynamics and relying on instinct.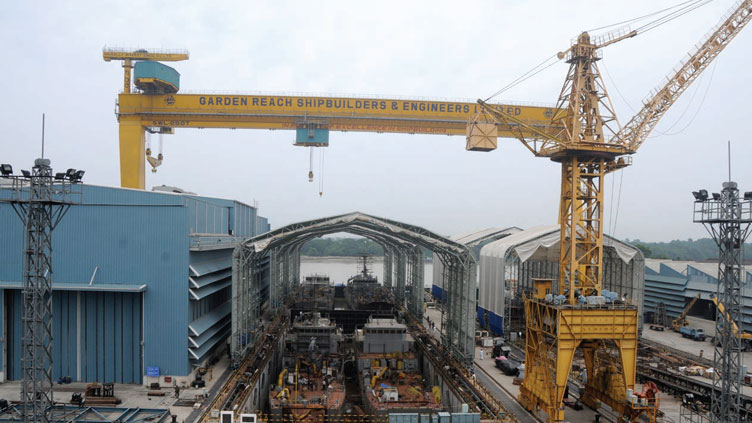 How can we mitigate the risks of Operating Large EOT Industrial Cranes ?
One way to mitigate the risks involved with using cranes is to monitor operation closely and issue warnings ahead of time. For instance, the risk of overload may be eliminated if the operator knows the weight of the load, and the risk of fall can be greatly reduced. Falls may be completely avoidable if the operator – or other personnel – receives prior intimation of possible malfunction.

Due to monitoring the crane with IIoT the data about the crane can be seen through the monitor. This helps the crane operator to understand how loaded the crane is or if there is any electrical issues in the crane. IIoT can help to reduce the accidents and also help in keeping the Cranes maintenance properly. There can be various malfunction and through human eye it can be difficult to understand but due to IIoT in-built function it becomes easier to understand the problems.

However, these are individual solutions. The one solution that can cover all risks is the ability to visualize the health and status of the crane at all times using crane automation technology. The information collected through such monitoring can be leveraged not only to prevent accidents but also to improve efficiency, reduce downtime, and ultimately increase your profit margin. All this is feasible through IIoT.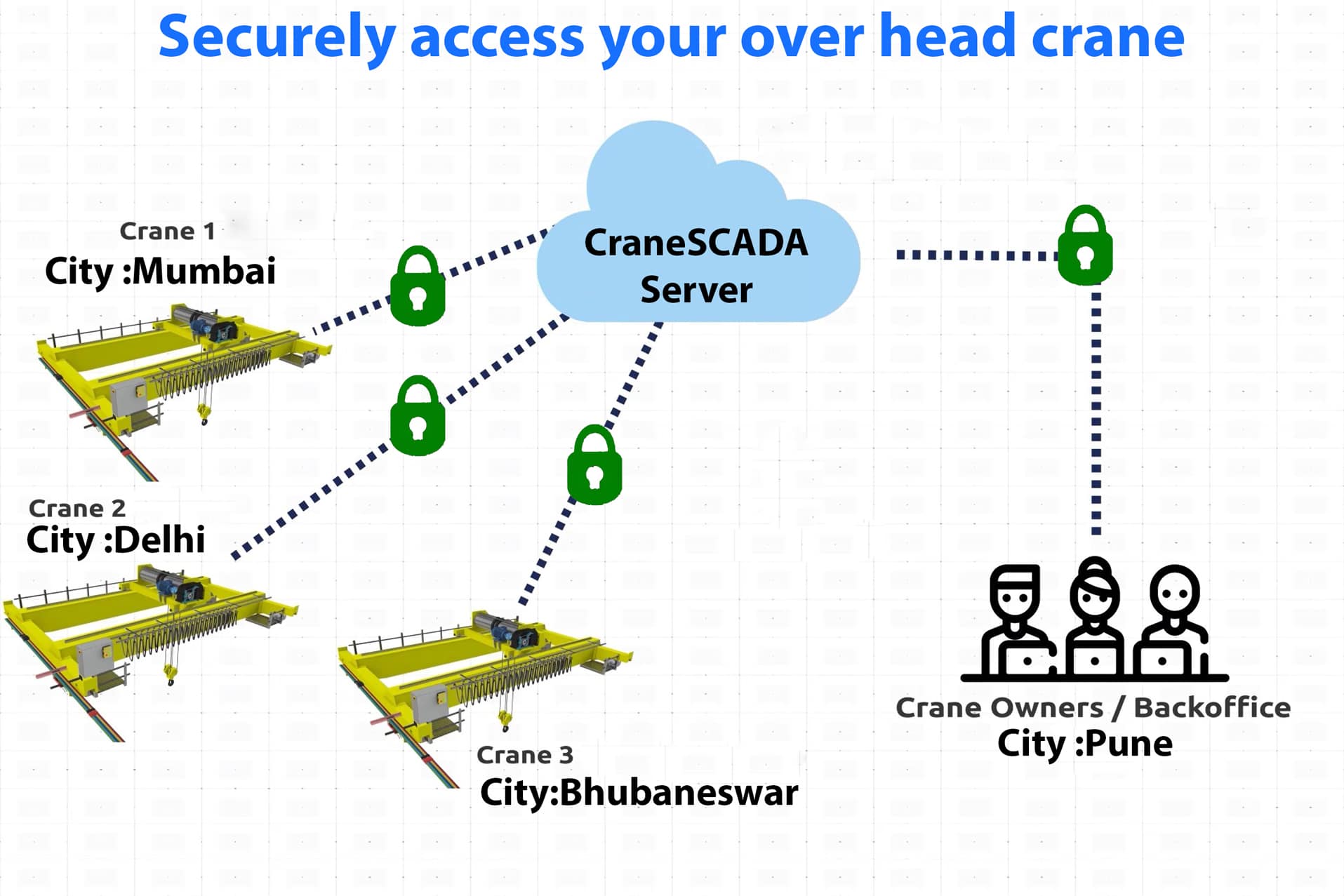 A very good Radio Remote Control system, will minimize the amount of packet retransmissions thereby reducing the overall battery consumption.
Benefits of modernizing your cranes with IIOT :
Bringing Industrial IoT to cranes not only mitigates the risks of accident and damage; it also has other significant benefits -
Real time data visualization of parameters like temperature and weight as well as crane parts such as motor brake, gearbox, and pendant helps forewarns the operator and other personnel about possible problems – thus preventing them. Data collected can be used to fix manufacturing faults in the crane itself and help improve its design and structure.
Data analytics through continuous monitoring facilitates lean manufacturing
Data can be used to set realistic capacity thresholds thus ensuring minimum loss.
Unplanned downtime can be minimized with predictive maintenance thus increasing productivity.
With the help of IIoT there will be minimum errors while doing work. This will help to reduce the cost.
It will help in efficiency and the work will be completed in time. This will boost company's profit and employee's confidence.
Biggest Advantage :
Perhaps the biggest advantage of IIoT cranes is the ability to recognize and retain patterns. This capability alone can help cranes around the globe implement preventive maintenance and rectify errors, saving both crane owners and users millions of dollars in downtime.
First Record your Cranes' Data & then act on it :
The system consists of a control panel, IoT sensor enabled parts, and an on board computer. The sensors record vital operational data from the crane and store it on a remote server using a password-enabled account.

An operator or employee can then login to the server from a remote location, and view this data within seconds of its being recorded. The data is instantly analysed and presented to the operator via the on-board computer or mobile device.

The sensor-enabled pendant has built in capabilities for data acquisition and computing – as do other sensor-enabled parts. The status and health of the crane is constantly monitored and real time data presented upon request at any time.

Such close monitoring, pattern recognition, and predictive analysis has the potential to save millions in terms of safety, healthcare costs, waste, maintenance, and more. Feel free to Call or write to us for a more information.
First Record your Cranes' Data & then act on it :
Nearly all the industries such as construction, transport, logistics or maritime use cranes in day to day activity.

Crane accidents can have tremendous consequences. To fill this gap IIoT is the solution to decrease the number of accidents and to help boost profit with efficiency.

There are 3 major reasons for the accidents to occur - electrical, material drop, and overload.

This all can be avoided through IIoT and also help to do maintenance of the crane. Nearly about 200 death takes place in a year due to crane accidents, this can be stopped or reduced.

Due to daily monitoring of the crane it helps the operator to understand if there is any problem in the crane. IIoT monitors every second's information and presents it on the display.

There are various benefits of using IIoT - it will reduce cost, reduce errors, reduce downtime, it will improve safety etc.

Due to the pre-recorded data it becomes easier for the operator to take decision and this helps in safety measures.
Question :
Do you think the risks of operating cranes can be mitigated with modernization?
Follow us on YouTube.